Determination of crystal structures and interaction energies of organic conductors by massively parallel quantum chemical calculation
Yu-ya Ohnishi

Graduate School of System Informatics,
Kobe University
Computational chemistry aiming to the theoretical understanding of chemical phenomena of atoms and molecules has been developed toward higher accuracy and larger system. It is nowadays possible to obtain highly accurate result, which is comparable to the sophisticated experiments, as far as the system consists of a few atoms. However, the highly accurate calculation of the system including more than ten atoms is still difficult because the computational cost increases by more than fifth power of the basis set size. There are two ways to tackle this problem: one is developing a new theory that enables us the highly accurate calculation with smaller number of basis sets, and another way is to implement the program for massively parallel environment so that the calculation of large system is feasible. The explicitly correlated second-order many-body perturbation (MP2-F12) theory implemented in GELLAN program by us has achieved both approaches. As shown in the figure, we can calculate the large system such as fullerene with high accuracy owing to this new theory and implementation.
I am currently developing a new explicitly correlated theory incorporating higher order perturbation terms to achieve more accurate calculations at the same time as studying the microscopic structure and its determinant of molecular crystals consisting of fullerene and porphyrin derivatives, which are expected to be future organic conductors, by using the MP2-F12 method dimple mented in GELLAN. Although the experiments have elucidated that a certain crystal structure improves the efficiency of the devices as well as the character of molecular does, it is considerably difficult to measure the strength of intermolecular interaction energy, which is closely related with the crystal structure. In order to help to design a better device, we are trying to show this property by performing the highly accurate calculation with massively parallelized GELLAN program.
Relation between the size of molecule and the computational cost for the highly accurate calculation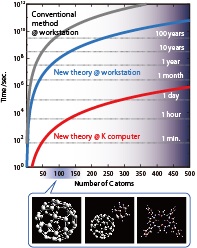 New theory and massively parallel implementation enable us highly accurate calculation of organic conductors.