Report: the 3rd CMSI Workshop
New Computational Materials Science Made Possible by Massively Parallel Computing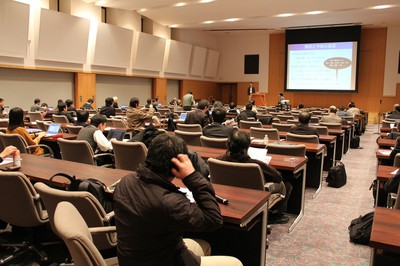 The 3rd CMSI Workshop was held December 3-5,  2012 at the Okazaki Conference Center in the National Institutes of Natural Sciences (NINS), with more than 100 researchers in attendance. As in previous years, representatives from each area of research presented reports on achievements attained during the year. This year, the workshop also included some of the presentations submitted by researchers not currently affiliated with CMSI. This was an effort to move CMSI activities a step forward in terms of locating and training new esearchers. In the administration of the workshop as well, there was an active effort to elevate young researchers, and 16 Division Researchers served as chair during the course of the three-day workshop. In the presentations by invited speakers, Mr. Akiyoshi Kuroda of the RIKEN Advanced Institute or Computational Science (AICS) spoke on the topic of "Can the FFT Run Fast on Massively Parallel Computers."
He presented that multi-axial parallelization in the plane wave basis set density-functional approach had been successful in achieving more than 20% of peak performance for the entire K computer system, and that even greater performance improvements are anticipated through the use of a three-dimensionally partitioned FFT library.
Professor Isao Tanaka of Kyoto University gave a presentation entitled "Materials Informatics based on First-principles Computing," in which he stressed that materials informatics is increasing in importance as a gateway to the development of new materials, but that the number of researchers in this area is extremely low as compared with other countries. For this reason, he made an impassioned appeal for development in terms of both research and personnel, as a task requiring urgent action.
There was also a panel discussion on the future of supercomputers jointly sponsored with the High Performance Computing Infrastructure (HPCI) Consortium. The panelists were Professor Hiroshi Nakajima of Kyoto University, Mr. Kazuo Minami of RIKEN AICS, Professor Naoki Kawashima of the Institute for Solid State Physics, Professor Isao Tanaka of Kyoto University, Associate Professor Katsuyuki Nobusada of the Institute for Molecular Science, and Project Professor Synge Todo of the Institute for Solid State Physics. Despite being held after the main program had finished on the first day, the panel discussion prompted a spirited discussion between the panelists and attendees.
In the poster session, the Poster Award, presented for outstanding research by young researchers (35 years of age or under), is a regular feature of the workshop. The young researchers exercised a great deal of ingenuity in their presentations, and wherever one looked young researchers could be seen engaged in serious discussions in front of their posters.
In this year's workshop, the awards were given not only to posters but to presentations as well, and two new categories were established: the "Young Researcher Award" and the "Visualization Award." The Poster Award winners and their research subjects are presented on Page 20.